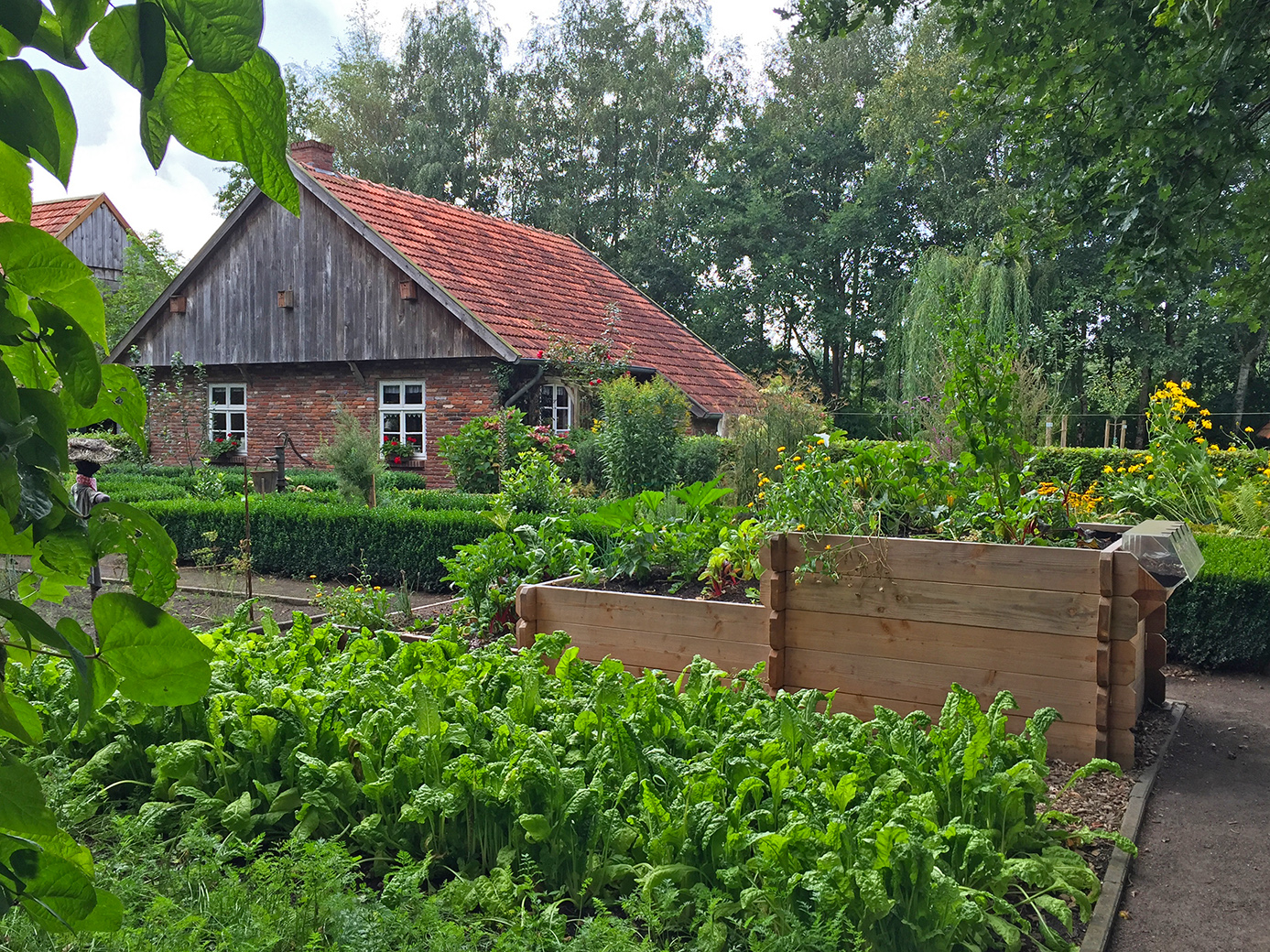 Slide 1
Organic regional products
Slide 1
Outdoor café and playground
The museum café offers a range of food including buckwheat pancakes, with or without bacon, ham, sausages or a Bratwurst sausage made from Bentheim Black Pied pig meat. Not to mention salads made from home-grown ingredients. And we have stews from a regional butcher, as well as vegetarian alternatives.
In the afternoons, we offer a large selection of home-made cakes, and additionally, home-made Buckwheat cakes on Sundays.
We use exclusively organic regional products, such as milk, eggs, vegetables and organic meat, including from our settler's farm. Like the museum as a whole, the café operates in accordance with sustainability.
When the weather is fine, the Biergarten is a lovely place to sit (and sample our buckwheat beer!), and there is a playground for children to enjoy.
Open yearly from 01/03-31/10, from 12 noon to 5pm every day except for Mondays.
In March, the museum is only open on Saturdays and Sundays.
If you wish to visit the museum with a group of more than 6 people, please let us know in advance by calling: +49 (0)5937 7099927 We can then take your visit into account and make sure you are not turned away.
Emsland Moormuseum breeds Bentheim Black Pied pigs on its own farm, insofar as possible according to ecological standards and extensive pasture farming. The museum is a member of the Bentheim Black Pied Pig preservation society (Verein zur Erhaltung des Bunten Bentheimer Schweines e.V.). You can taste meat from this pig in the museum restaurant, and fresh meat is regularly available for purchase.
Packages of fresh Bentheim Black Pied pig meat are available three or four times a year. The meat is processed at a regional butcher's, guaranteeing short lines, freshness and quality.
The gourmet package contains roast pork ham, crusty roast, chops, ribs and fresh Bratwurst sausage.
Delivery/collection:

Fresh goods – cannot be sent by post. Collection from Emsland Moormuseum.
You will be informed of dates by email. Please do not forget to confirm your order. For hygeinic reasons, we always vacuum-package portions.
Emsland Moormuseum is situated in the midst of the international Naturpark Moor-Veenland nature park near the German-Dutch border, along the A31 motorway between the exits of Geeste and Twist. The nearest large towns are Meppen, Lingen, Nordhorn and Emmen (NL)
Das Emsland Moormuseum liegt inmitten des Internationalen Naturparks Moor – Veenland an der deutsch-niederländischen Grenze, direkt an der Autobahn 31 zwischen den Abfahrten Geeste und Twist. Die nächsten größeren Orte sind Meppen, Lingen, Nordhorn und Emmen (NL)
Address
Emsland Moormuseum e.V.
Geestmoor 6
49744 Geeste / Groß Hesepe
Telephone No. and Fax
Fon: +49 (0) 59 37 – 70 99 90
Fax: +49 (0) 59 37 – 70 99 935
Auszeichnungen
Wir sind stolz auf unsere Auszeichnungen, die Ihrem Besuch zu gute kommen.